Guide to Shopping at Iranian Supermarkets in Charlotte
Discover Iran in the Queen City: Your Ultimate Guide to Iranian Supermarkets in Charlotte
Charlotte may be best known as a banking hub, but this Southern city boasts a vibrant Iranian community and some of the region's best Persian markets. These grocers provide a taste of Iranian culture and cuisine without ever leaving North Carolina. Walking their aisles offers an immersive culinary adventure, from the enticing aroma of saffron rice to the crunch of fresh pistachios. This comprehensive guide takes you on a mouthwatering tour of Charlotte's top Iranian supermarkets. Fill your pantry with exotic ingredients to recreate delectable Persian dishes at home!
Transporting You to the Spice Bazaars of Tehran
Stepping into one of Charlotte's Iranian grocery stores instantly whisks you away to the captivating spice bazaars of Iran. The permeating scent of just-baked Barbari bread and warming spices like turmeric and advieh waft through the air. Pyramids of plump stone fruits and persimmons greet you at the entrance while cooks diligently shave paper-thin slices of lamb shank for ash reshteh behind the butcher counter.
The lively sounds of Farsi conversation and classic Iranian pop music surround you as young and old shoppers. Beyond provisions, these markets serve as community and cultural hubs. Families restock supplies for Nowruz while kids playfully race down the aisles. Elders generously share family recipes and point you toward the perfect produce for stews and rice dishes. Stepping into one of these shops truly transports you to the markets of Iran.
The British Food Depot – Your One-Stop Persian Pantry Shop
Tucked away in East Charlotte, this Iranian-owned market shares its space with a halal butcher shop, making it a one-stop spot for Persian proteins and specialty ingredients. The tight aisles brim with treasures like crimson threads of saffron, dried limes, salty feta, and other Persian cheeses, and the widest selection of tahini you'll find around town.
The British Food Depot carries harder-to-find Iranian ingredients like kashk powder, a fermented whey product, coconut flour for melt-in-your-mouth nankhatai cookies, and even dizi pots for simmering abgoosht shanks and other long-cooked stews. Browse their freezers, where you'll uncover premade treats like zereshk polo jeweled with tart barberries and earthy gheimeh stew with protein-packed split peas, ideal for quick and hearty weeknight meals. Don't miss out on their in-house baked naan hot from the tandoor and Iranian desserts like bamboo manakeesh by the register.
It's your ultimate one-stop shop for fully stocking your Persian pantry and getting ingredients for your next koofte kebab feast.
Shiraz Mediterranean Foods – A Charlotte Persian Institution
Shiraz Mediterranean Foods has been a staple in Charlotte since the 90s, serving as the go-to grocer for the local Iranian community. With two locations just outside Uptown, getting your fix of Persian provisions is easy. Step inside, and you'll be greeted by wicker baskets overflowing with just-picked herbs, barrels brimming with emerald pistachios and toasted almonds, and tables piled high with exotic tropical fruits.
Head to their butcher for vacuum-sealed chicken destined for juicy joojeh kabobs or fork-tender lamb shanks crying out to be braised into abgoosht. Shiraz boasts a wall of Persian produce, from plump eggplants to crimson saffron threads and even sumac. Don't miss their selection of pantry staples like dried limes, bottles of pomegranate molasses, and smoked rice, perfect for tah chin and rice pudding.
Shiraz's freezers hold prepared treats like kuku sabzi, a vibrant herb, egg, walnut omelet baked to perfection, and garlic-spiked mast o khiar, an authentic yogurt and cucumber dip. And make sure to explore their Armenian and Greek offerings, too, for brined string cheese, creamy labneh, and plump olives. For an all-encompassing Persian grocery experience, Shiraz can't be beaten.
Young's Asian Market – Pan-Asian Store with a Persian Twist
While technically a pan-Asian grocer, Young's Asian Market has an entire section dedicated to Iranian goods that will excite any Persian food fan. Here, you'll uncover harder-to-find Iranian drinks like doogh, a savory and refreshing yogurt, mint, salt drink, and floral rosewater from the famous Angel brand.
Peruse aisles of Iranian pickled treats, dried fruit leathers, crunchy sesame crackers, and snacks. You'll also discover ingredients for the perfect Persian chai ritual, like rock sugar cubes, loose black tea leaves, and saffron lumps for flavoring teas with an aromatic golden hue. Young's freezers will provide ready-made Iranian kotlet, deliciously crisp and fried chicken cutlets, plus classic desserts like firni and bastani, rosewater, and saffron-laced ice creams. It has everything you need for an authentic Iranian tea time experience.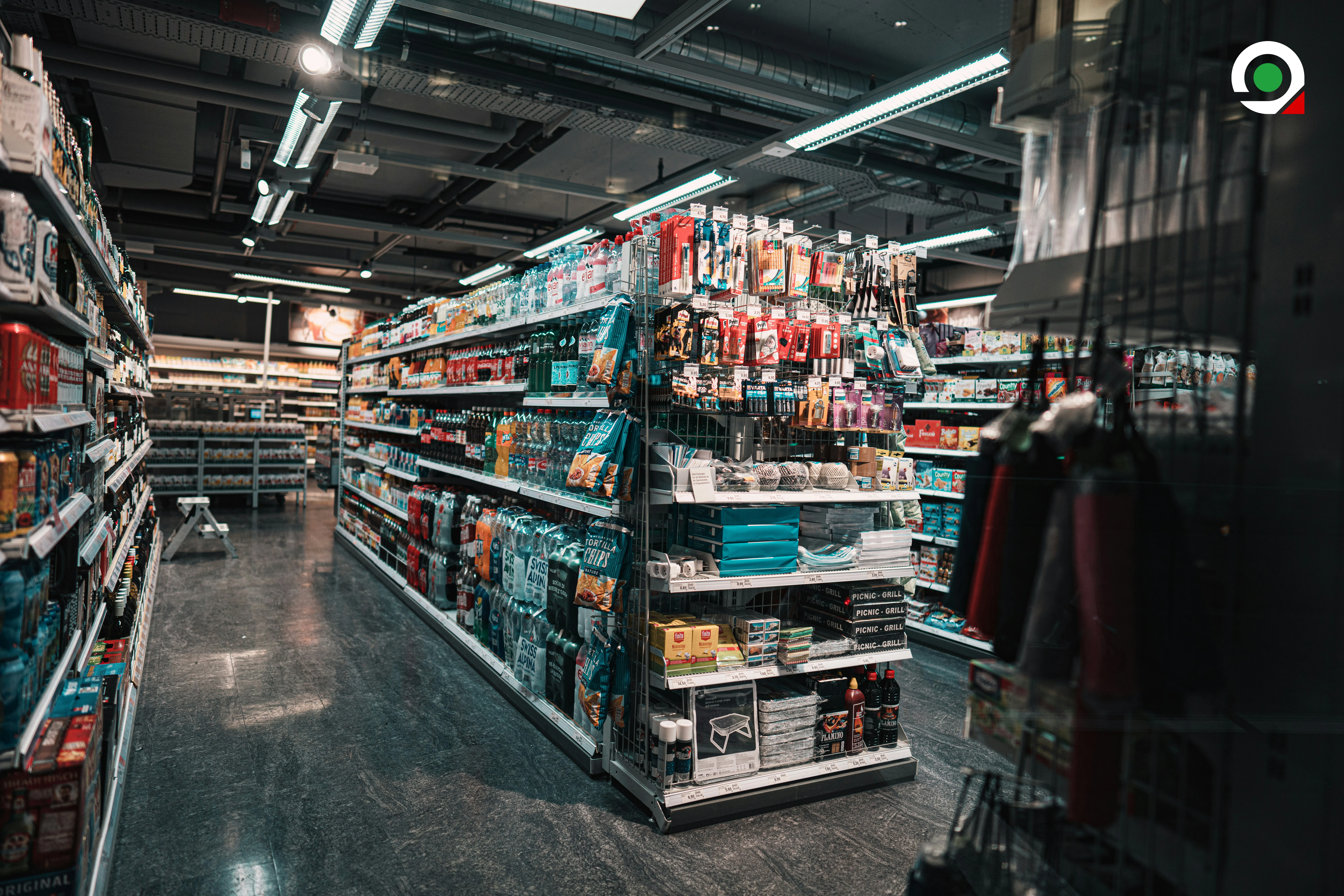 Compare Foods Supermarket – Latin Store with Surprising Iranian Finds
This Latin grocery chain may seem an unlikely place to find Iranian products, but its sizable international aisle never disappoints. Look for tetrapak boxes of tadig, the crispy, golden rice bottom of tahdig that provides the soul of every Persian meal. You'll also uncover smoked rice perfect for additions like tah chin soup, saffron, and rosewater-laced shirini polo.
Bins overflow with Iranian pulses like buttery chickpeas, earthy fava beans, and brown lentils destined for ash reshteh soup. And you'll even find bootleg Iranian versions of Nutella and Oreo cookies to satisfy your sweet tooth! Compare Foods stocks various Iranian flatbreads like sangak, perfect for wrapping up juicy koobideh kebabs or scooping up mast-o-khiar dip. Their international aisle is a treasure trove of hard-to-find Iranian ingredients at affordable prices.
Street Corner Market – Cozy Shop with Persian Pantry Staples & More
Find this quaint neighborhood market just off Central Avenue to uncover a trove of Iranian pantry essentials and confections. Browse aisles of Iranian candy, including rosewater nougat bars, buttery pistachio nabat sesame cookies, and ladookh, chickpea flour-based halva.
Check their freezers for prepared fesenjan stew with succulent chicken in a rich pomegranate and walnut sauce or dolmeh stuffed with fragrant rice and herbs. Then stop by their cheese aisle to find salty feta and paneer-like Iranian white cheese, perfect alongside fresh Barbari bread from their bakery.
And don't miss the wall of Iranian beauty products, from saffron-infused skin creams to hydrating rose water facial spray. Street Corner Market has everything from Iranian grocery staples to self-care.
Start Cooking Up Your Persian Feasts
Now that your pantry overflows with Iranian ingredients, it's time to start cooking aromatic Persian dishes in your kitchen. Spend a leisurely weekend morning simmering kaleh pache, a hearty lamb bone broth with chickpeas, noodles, and herbs, or crisp kotlet cutlets paired with Tahdig's golden crunchy rice bottom.
Dazzle friends and family with a lavish Persian spread of saffron chicken, jeweled rice with tart barberries, herbaceous sabzi polo, and a symphony of kabobs. Or keep celebrations simple with a picnic of feta, walnuts, fresh herbs, and naan from your new Iranian provisions. However you choose to use your exotic ingredients, they will add fantastic, unique flair to your repertoire.
Let Charlotte's Iranian markets transport your tastebuds without needing a passport. Their aisles offer an aromatic escape and ingredients to cook up sumptuous Persian feasts from your kitchen. Just one bite of saffron-soaked rice, a floral doogh sip, or pistachios crunch opens up a world of new and exciting flavors. Bring the markets of Iran to the Queen City by shopping at these excellent grocers. From there, the possibilities for culinary adventure are endless! Looking for more iranian business in charlotte? Then check out our suggestions below.